Antique Watch Service
---
The term antique watch can have different meanings for different people, From our standpoint, antiques are watches manufactured before 1930. Obtaining repair parts for watches made before 1930 can be very difficult and often impossible, which means that the parts must be made. This is labor intensive work and can become very expensive.
Additionally, watches that are eighty years old, or more, may have been repaired many times before. In some instances the repairs have been performed by less than skillful workers. As a result, the watches may have a number of faults and perhaps incorrect parts as well.
Each antique watch needs to be individually evaluated. While we are pleased to have an opportunity to repair your antique, be aware that most antique repairs will be in the range of $200 to $250 or more.
Since many antique watches are family heirlooms,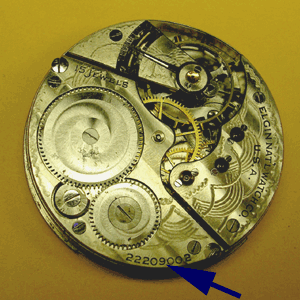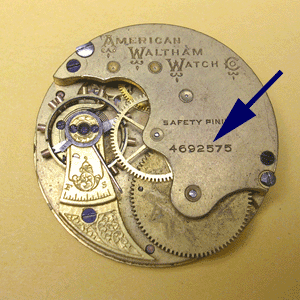 we understand that often antique owners are curious about the age of their watches, so we have posted serial number lists for the most popular brands of American watches in order to help you determine the approximate age of your watch. The significant serial number will be found on the watch movement, not the watch case.
See the two photos for typical serial number locations. We have posted the serial number lists on separate pages.
Please click on the links below to see the appropriate page.
---