---
We accept small clocks for service and repair. Typically, these would be automobile clocks, aircraft clocks, desk clocks, and travel alarms. Most of these sorts of clocks are basically large watch movements. As always, please contact us by e-mail before sending your clock so that we can make a determination as to rather it fits our criteria for "small clocks".
We also service and repair 400 day clocks, often referred to as "Anniversary Clocks", as well as Jaeger-LeCoultre Atmos clocks. However, we only accept these two types of clocks from local area clients. Both of these types of clocks are very delicate. Mailing them can be problematic; we prefer not to take the risk.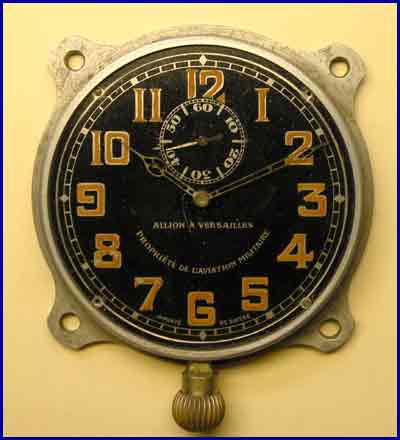 Here is an image of a clock that we serviced last year. It is originally from a WWI French military aircraft.
Typical cost to service a small clock....... $235
Typical cost to service 400 Day (Anniversary) Clock.......$260
Typical cost to service an Atmos Clock......$350
In most intances, these sorts of clocks are vintage or antique pieces. The actual quote is dependent upon a visual inspection. As always, we offer a firm quote for repair and no work is started until the client approves the quote.
Any required parts are additional. Return postage is not included in the above pricing.