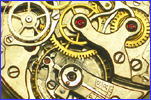 ---
Vintage & Antique
Watch Repair
Shipping Information
The most economical and safest method of sending your watch to us for repair is through the United States Postal Service.  Insured USPS Priority Mail is very secure and will be delivered to us usually within two to three days from anywhere in the country. Repaired watches are always returned by U.S. mail, either Priority Mail or Registered Mail depending upon the value.
The cost of USPS Priority Mail service for parcels of less than 1 lb., from any location in the U.S. to Nevada Watch Repair, is a maximum of $7.85. Insurance against loss or damage in transit may be purchased in increments of $50 to a value of $5,000. For example, shipping a watch valued at $500 would cost $14.85 ($7.85 postage + $7.00 insurance).
Use a box of at least 6 inch cube. The Postal Service charges by weight, not by size. The Postal service provides free Priority Mail boxes. Illustrated is USPS box (O-BOX4).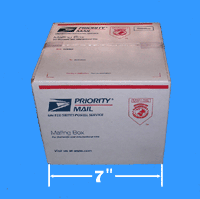 Wrapping the watch in a full sheet of newspaper and using additional crumpled newspaper as cushioning is an effective and economical means of safe packing.
If the box weighs less than 1 lb. (and with a single watch, it will), it ships from anywhere in the country for no more than $7.85, plus insurance, which is always good idea if sending a valuable watch.
Please be certain to enclose your name, mailing address, and telephone number, as well as an e-mail address. Also tell us the value you place on the watch so that we may cover it with sufficient insurance when it is returned.
Please send only the watch. Watch boxes, bags, etc. tend to get separated from the watch, since they do not fit into the job envelope.
We will notify you promptly by e-mail of the safe arrival of your watch. Usually a firm quote for the cost of repair and return postage will follow in less than a week.
If you have questions, we are always happy to respond. Click on the Contact link below. Thank you.
---
Send Repairs to this Mailing Address:
James Sadilek
P. O. Box 194
Carson City, NV 89702
Note: It is wise to leave off any references to watches or watch repair in the mailing address--this can be an invitation to thieves.